Services Include:
Complete painting service: Residential and commercial, interior and exterior
Coatings – Acrylic, latex, oil, epoxy,urethane, lacquer, conversion varnish
Brush, roll, and spray
Stains – Water and oil base options
Cabinet finishing and refinishing – In-house spray booth for custom work
Wood restoration, Deck and Fence Refinishing
Pressure washing and cleaning
Wallpaper – removal and application
Scaffolding, boom lifts and falls
Drywall – patches and repair
Graffiti removal
Concrete coatings
Eco-friendly products
Window cleaning
Color Consultation
Custom Color Matching
Decorative Finishes and Glazes
Find out more >
Our Services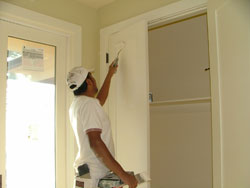 Our preparation process is thorough and critical to achieving a durable and reliable finish that protects your property and investment. As we prepare the property, if we discover that any surface cannot be adequately prepared to provide a suitable surface to receive paint or stain, we will advise you before continuing our work. Please review What to Expect for more details about process.
We offer a full range of painting and wall covering services for your home or office, inside or outside.
Interior
The color or décor of a room can change its atmosphere from dull to cheery, drab to welcoming, bright to relaxing. A fresh coat of paint or new wall covering can make all the difference. We can paint one or all of the rooms in your house, townhouse, condo, office, or business. We can also install various wall coverings, or apply customized finishes (including faux finishes and glazes) to your walls.
Exterior
We can paint the outside of your commercial or residential building quickly and efficiently. We choose our paint for its quality and longevity, and we take the time to prepare all surfaces so you'll have a long-lasting, high-quality paint job. Make your home or place of business a site to see!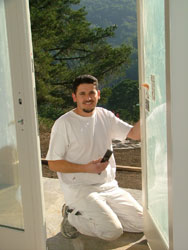 Residential
We take care to work around your schedule and needs when we're painting either the interior or exterior of your home. We can help remove or apply any type of paint or finish you need in or on your home including:
Exterior
Wall coverings, including wallpaper
Specialty coatings: faux finishes, glazes
Plaster repairs
Textured ceilings
Paint removal
Deck sealing and restoration
Pressure washing
Carpentry repairs
Commercial
With experience working in and on retail centers, office buildings, warehouses, schools, and churches, we are fully qualified with:
Exterior washes
Commercial-grade paints and coatings
Commercial wall coverings
Roof painting & coatings
Restorations
We provide restoration services, including extensive stripping, preparation, and painting or finishing. We can help bring the life back into an old building or a poorly covered wall.